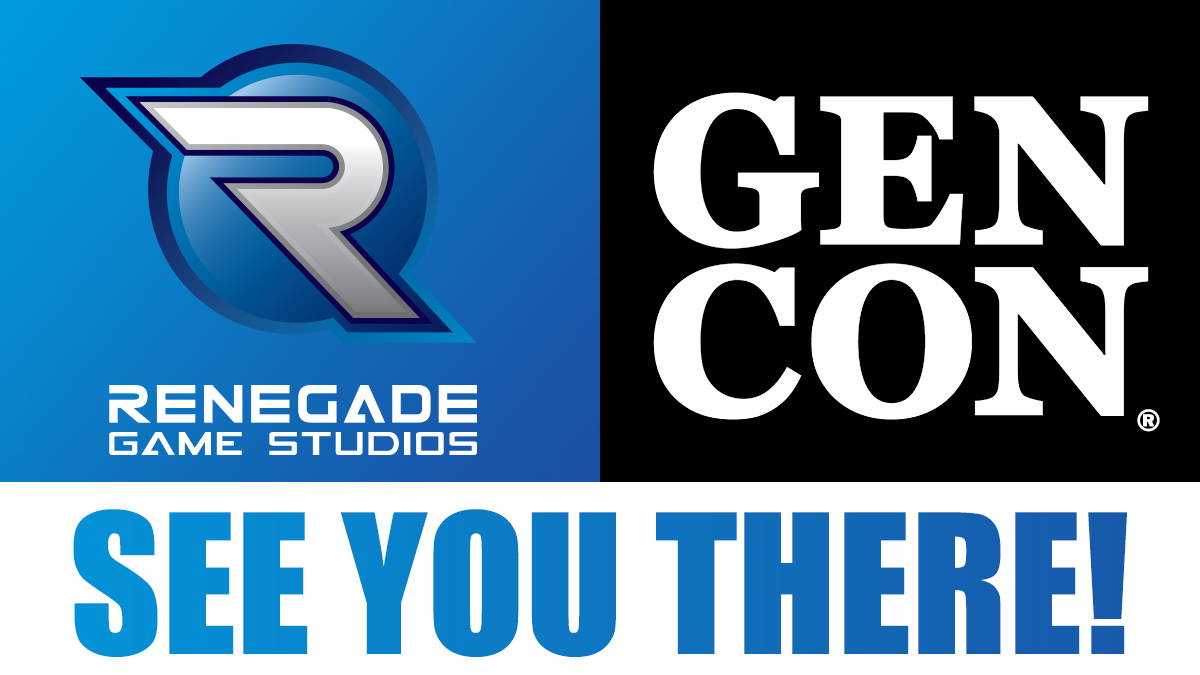 We at Renegade are looking forward to seeing YOU at Gen Con this year! If you haven't already, now is the time to. check out our list of events, including tournaments, roleplaying games, learn-to-plays, and more! This is your one-stop-shop for everything Renegade at Gen Con Indy 2022!
Visit us at Booth 2309 to see (and buy!) the latest and greatest Renegade games! We'll have something for everyone, whether it's a deck-building game, roleplaying, miniatures to paint, solo games, and more! If you're looking to try out a Renegade title you've been eyeing, read on to learn about our Demo Room (Room 139)!
Demo upcoming Renegade games in our dedicated space, ICC Room 139, located across the hall from the main exhibition hall! The Renegade Demo team will be on-hand to teach the new hotness! Both open demos and ticketed Learn-to-Plays are available! The following games will be available for demo at GenCon 2022:
FUSE Countdown
G.I. JOE Mission Critical
Birdwatcher
Wreckland Run
Warp's Edge
Power Rangers Deck-Building Game
Transformers Deck-Building Game
G.I. Joe Deck-Building Game
My Little Pony Deck-Building Game
The Hunger with High Stakes Expansion
Circadians: Chaos Order
Click to expand each category!
Wednesday, August 3rd - 5:30-7:30PM - Room 139 - Get the jump on your Gen Con gaming! Pre-orders are now live! Click here to get started.
Game Night With Renegade Staff
Thursday, August 4th - 7-9 PM - Room 139 - Come play your favorite Renegade games with the team that brings them to life! You may even catch a glimpse of the next cool thing, and we'll have drawings for door prizes all evening.
Thursday, August 4th - 7-9 PM - Room 138 - Meet the team behind some of your favorite roleplaying games, including The Power Rangers Roleplaying Game, G.I. JOE Roleplaying Game, Transformers Roleplaying Game, My Little Pony Roleplaying Game, Vampire: The Masquerade, Hunter: The Reckoning, and more! The RPG staff will be on hand to hang out, sign books, answer questions, and more!
Friday, August 5th - 7-9 PM - Room 139 - Meet the artists responsible for the beautiful art featured in many of our games. Paint G.I. JOE Mission Critical miniatures with expert guidance, and take your finished product home to show off to your friends!
Hunter: The Reckoning Release Party
Friday, August 5th - 7-9 PM - Room 138 - We've got reservations at The Serpents Club, in Room 138, at 7:00 PM. Join us then to step into the World of Darkness, and celebrate the release of Hunter: The Reckoning!
Saturday, August 6th - 7-9 PM - Room 138 & 139
You're Invited!
Join us at the Renegade Community Bash, Saturday at 7:00 PM in Room 138 & 139!
Enjoy a game night with fellow community members, hang out with Renegade Staff, get free exclusive goodies, and win one-of-a-kind prizes from the giveaway, including signed copies of games, professionally painted miniatures, special experiences, unreleased games, and more!
Bring your Renegade Passport and show at least one stamp for entry!I don't have a Renegade Passport! Where can I get one?
Grab your Passport from a Renegade staff member at our main booth!
Where do I get stamps?
Visit each of the five Renegade locations, and present your Passport to a staff member to obtain that location's unique stamp!
Only one stamp is required for entry into the Community Bash, but extra stamps will get you additional giveaway tickets!
Questions? Join our Discord and head over to the gencon-community-bash channel!
Click to expand each category!