Posted by Renegade Game Studios on Oct 18th 2022
Yo Joe! We have a special sneak peak for fans of the G.I. JOE Deck-Building Game today. We recently got the Shadow of the Serpent expansion, and now many are eagerly waiting to hear… what's coming next? Here's a first look at the G.I. JOE Deck-Building Game: Coldsnap expansion!

You can be the first to pre-order, and receive the Bonus Box #3 promo item! Bonus Box #3 contains a punch-board towables yard, which goes nicely with the command center promo, and 2 promo leader cards: Beach Head and promoted Beach Head!
Bundle up and prepare to face the Coldsnap! Battle Destro and the Weather dominator device before the world freezes. Then, face off against Zartan and his Dreadnok gang before the world goes crazy. Hook up the new Towable Assets against chilling new threats like Snowblind cards and Snow Serpents.
Here are some previews of the features, and cards!:
New "Towable" cards feature artillery and armaments from the G.I. Joe arsenal!
Snow Terrain and Vehicles present new challenges for the Joes to overcome!
Two new story missions, featuring the Weather Dominator and the Dreadnoks!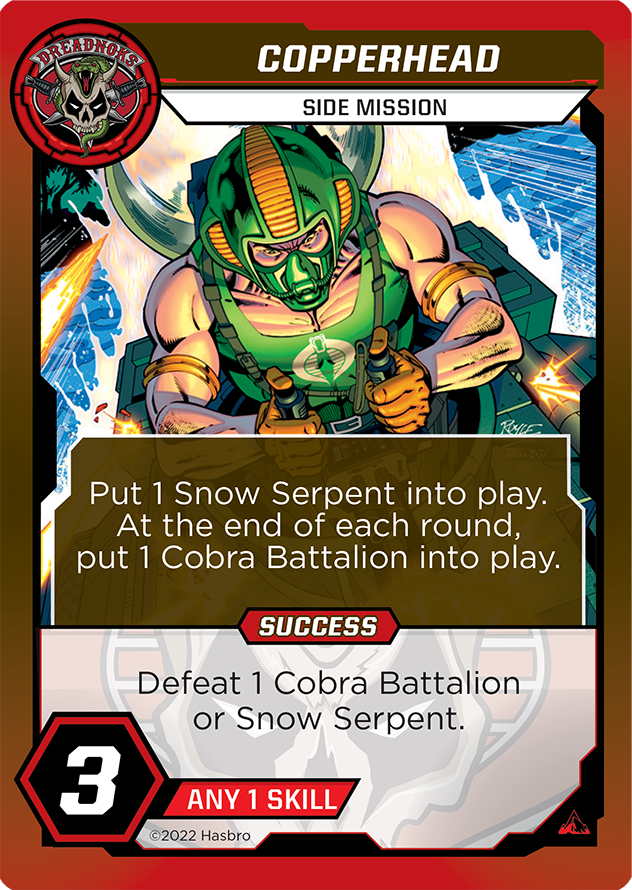 ---
Get involved with the community! Join our Discord server or dedicated G.I. JOE Tabletop Gaming Facebook Group to join the conversation and participate in our fun community events! Plus, be the first to hear about more spoilers and announcements like this one!