Posted by Renegade Games on May 3rd 2022
Yo Joes! You thought we were done?! Although Joes month has come to an end, we wanted to surprise you all and kick off the new month with a few extra goodies this week! Prepare for your bonus mission, Joes!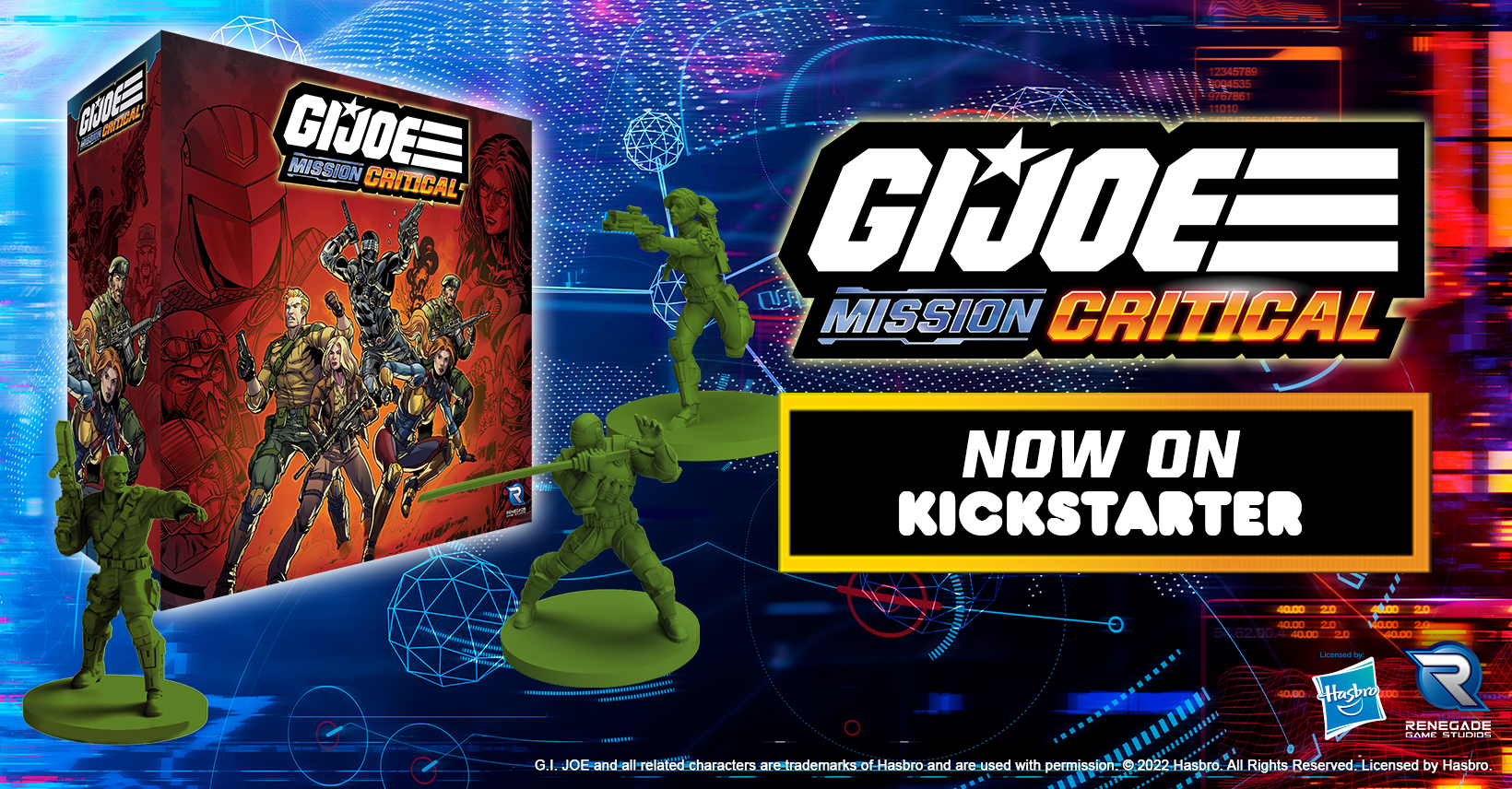 Mission Critical Kickstarter Campaign – The G.I. JOE Mission Critical Kickstarter continues to excel, despite Cobra's best efforts to squander this new addition to our arsenal! Though the battle isn't over yet! We're calling on you, Joes, to spread the message of this mission to new recruits! Together, we will show Cobra just how indomitable we are in numbers alone!Head over to the Kickstarter page to get a detailed first look at the components for this awesome game. If you're curious about how the game plays, check out this great overview on Youtube!
Mission Critical Miniature Painting - For those of you who know of the legendary miniature painter of Morphinominal Monday… Prepare to witness greatness, as Daddy Louie will be taking his skills and showing them off on G.I. JOE miniatures! Get an up-close look at a certain miniature man-in-black from the upcoming G.I. JOE Mission Critical game, made to look its best with Daddy Louie, today at 3:00 PST on Twitch!
Wizard Pre-generated Character – That's right, we've got yet another pre-generated character for you! This time, we're releasing a special pre-gen Joe crafted right here in Renegade labs... Wizard! Included with a level 1 character sheet is a detailed write-up of the character, that way you can optimally feature Wizard in your campaigns, or even play her yourself! You can find the Wizard pre-gen and write-up available for download as a free item on our webstore (EU, UK)!
Order from D.I.S.O.R.D.E.R Learn How to Play Series: Session Five – The fifth installment of the G.I. JOE Roleplaying Game actual play is also dropping this week! Tune into our Twitch channel today at 5:00 PST to watch the 5th session of "Order from D.I.S.O.R.D.E.R", a Learn How to Play series for the G.I. JOE Roleplaying Game. If you missed the previous sessions, they're available for viewing on our YouTube channel! Be sure to get caught up now, as we'll be streaming a new session every Tuesday evening for the next 5 weeks!
How to Play Video: Equipment – The fifth installment in our series of How to Play videos, aiming to get you started with playing the G.I. JOE Roleplaying Game, or ready to guide your players as GM! These videos provide a fast and clear breakdown of their corresponding topic, perfect for players or GMs with time constraints! This week's video will focus on the all-powerful GAME MASTER, providing tips on how to best run your G.I. JOE Roleplaying Game campaign! Check it out now on our YouTube channel!

Updated G.I. JOE Roleplaying Game FAQ – Head on over to our website to check out the newly updated G.I. JOE Roleplaying Game FAQ. We've got some fresh information posted to provide you with a seamless RPG experience!