Posted by Renegade Game Studios on Apr 17th 2023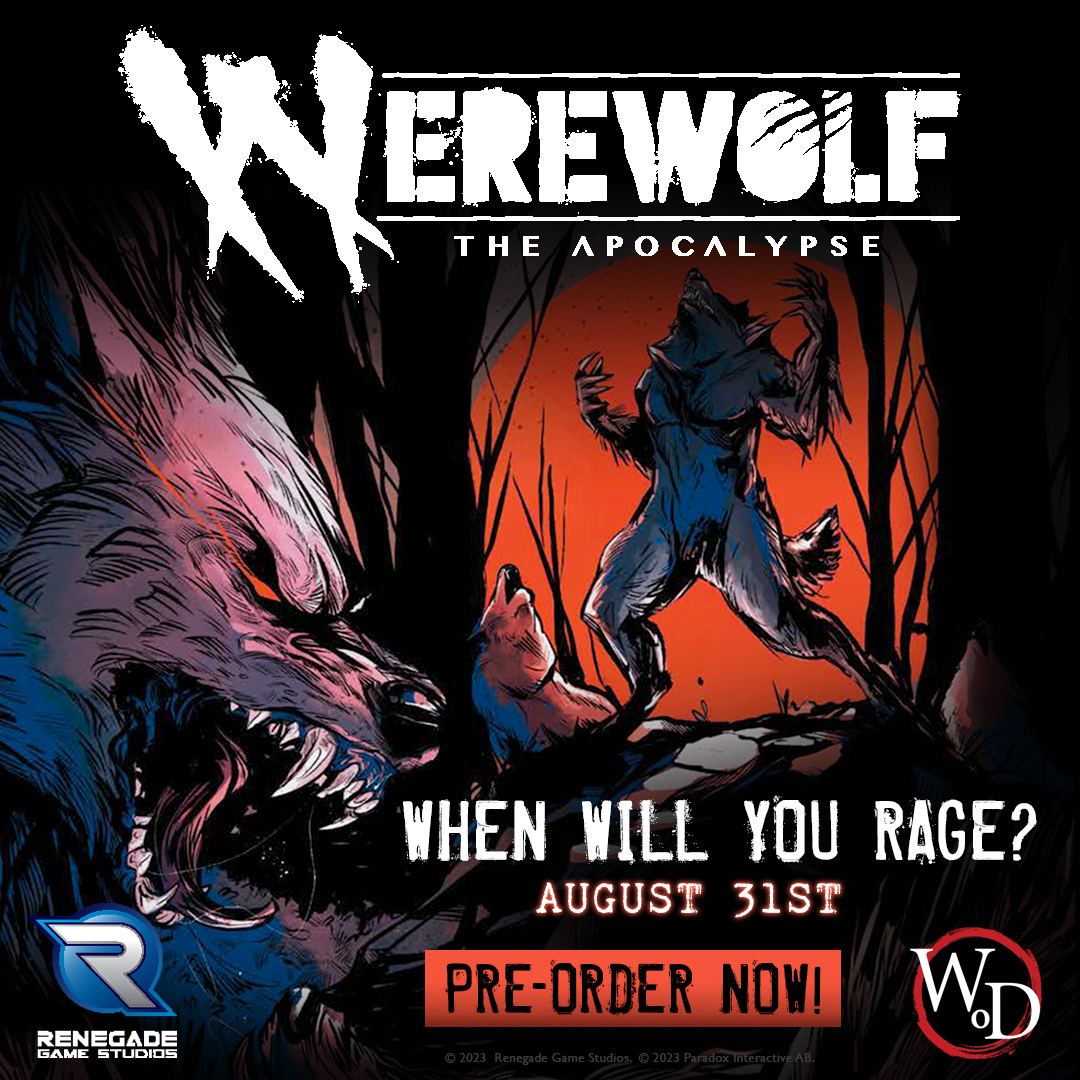 Werewolf: The Apocalypse is now available for pre-order!
Get a free PDF with your pre-order, and get your first look inside the book on WoD News this Thursday!

As a new generation Garou, confront the forces of destruction, avarice, and greed ravaging the earth-mother.
Includes everything you need to build your own character or guide a troupe as they explore their new forms.
Join one of eleven tribes, each unique with narrative depth for players to explore, and Storytellers to utilize.
Includes an introductory story to guide new Werewolf players and veteran World of Darkness enthusiasts through their first game.
Build your legend, vie for renown, and fight to take back what has been lost.
Pre-Order Now!

Going to Gen Con? Use code GENCONPICKUP2023 to pick your copy up at the show on August 2nd!
---
There's more! You can also pre-order your Werewolf: The Apocalypse accessories TODAY!
Enhance your game with the Werewolf: The Apocalypse Dice and Form Card Set - designed for clarity and style. Each set of official Werewolf: The Apocalypse 5th Edition dice contains a set of dice for one player and five form cards to track which of the five forms their character is in and remember the rules for that form.
Each set of official Werewolf: The Apocalypse dice contains:
12 Custom Ten-sided Green Normal Dice
5 Custom Ten-sided Red Rage Dice
5 double-sided form card
You can keep your dice and other gaming accessories at hand in this premium quality Werewolf: The Apocalypse themed dice bag! The Garou symbol is featured on this dice bag, perfect for use while playing your Werewolf story. Featuring high quality construction with a soft fabric exterior and protective liner, along with a locking drawstring clasp, your dice will be safe and secure.
Features the iconic Werewolf symbol!
High quality, double-lined fabric!
Locking drawstring clasp secures your accessories inside the bag.
Soft interior liner keeps dice scratch-free and safe.
Measures 6.25" x 8.5" when flat.